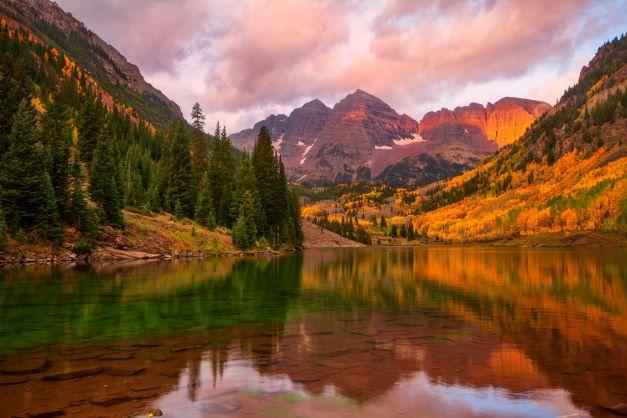 - Will Toor, Executive Director
[BLOG POST] Friday, January 22, 2021 - Last week, Governor Polis released the Greenhouse Gas Pollution Reduction Roadmap (Roadmap), a comprehensive action plan that shows how the state will cut GHG pollution in half by 2030. The Roadmap lays out an ambitious agenda for legislation this spring on cleaner buildings and electrifying transportation, four major clean air rulemakings at the state Air Quality Control Commission to reduce pollution from cars and trucks, the oil and gas industry, other industrial operations and buildings along with major steps to lock in greater than 80% reductions in pollution from power plants. The plan centers equity, and makes a commitment to implement policies in ways that reflect the concerns of disproportionately impacted communities and deliver local air quality benefits. The Roadmap took a year and a half to develop with thousands of Coloradans providing input to the process, dozens of stakeholder meetings and deep technical analysis all contributing to the final product. 
But the state didn't sit on its hands waiting for the Roadmap to be finished before taking climate action. In fact, despite all of the challenges of 2020, our state saw more progress on climate and clean energy than we have ever made in any previous year. 
Much of this was spurred by the remarkable clean energy bills passed during the 2019 legislative session including setting GHG pollution targets, authorizing utilities to invest in vehicle electrification, and requiring state agencies to track and report GHG pollution; by the pull of technical and market innovation that keep pushing the cost of wind, solar, storage, electric vehicles and other clean technologies lower and lower; and by the work of advocates and local governments. These developments all help advance climate and clean energy goals in Colorado, making our state a healthier, safer and more equitable place to live for all Coloradans. Here are my top happenings for 2020, in roughly chronological order:
In January 2020, Tri-State Generation and Transmission joined Governor Polis to announce plans to retire all three of its Colorado coal plants by 2030 and reduce GHG pollution associated with serving its Colorado customers by 70%. Given Tri-State's history as one of the most coal dependent utilities in the region, this was big news. And the news got bigger in December, when Tri-State filed an electric resource plan at the Colorado Public Utilities Commission that goes even further, achieving an 80% reduction in GHG pollution by 2030 while adding about 2 gigawatts of wind, solar and storage. To make matters even better, Tri-State announced it will achieve this while reducing rates 8% due to the "green dividend" of low-cost wind and solar replacing expensive legacy coal.
In March, the legislature approved and Governor Polis signed into law SB 20-167, which allows new vehicle manufacturers that don't have traditional dealerships to sell directly to consumers. This makes it easier for Coloradans to buy vehicles from Rivian, Faraday, and other emerging electric vehicle companies━a big step forward for consumer access to EVs.
In April, the Colorado Energy Office released an updated Colorado Electric Vehicle Plan, which reaffirmed the state's goal to get 940,000 EVs on the road by 2030; set a target of nearly 100% of all cars on the road being electric by 2050, and set the target of 100% zero emission trucks and buses on the road by 2050.
In June, the Colorado Springs City Council, acting as the utility board, voted to adopt an electric resource plan that will retire the Drake coal plant by 2023, the Nixon coal plant by 2029, add about a gigawatt of wind, solar and storage, and achieve an 80% pollution reduction by 2030.
Also in June, the Air Quality Control Commission voted to adopt GHG reporting requirements and new rules requiring the phaseout of hydrofluorocarbons, a very potent greenhouse gas that is used as a refrigerant.
In July, the board of the Platte River Power Authority━which provides power to Estes Park, Fort Collins, Longmont and Loveland━voted to adopt an electric resource plan that will retire the Rawhide coal plant by 2029 and reduce pollution 90% by 2030, setting a new bar for utilities in Colorado.
Also in July, Governor Polis signed on to a 15 state Memorandum of Understanding on zero emission trucks, which commits the states to work together toward at least a 30% market share for zero emission medium- and heavy-duty vehicles by 2030. The state then launched a stakeholder process for a broad-based clean trucking strategy looking at infrastructure investments and fleet incentives, and evaluating potential regulatory tools like advanced clean truck standards, indirect source rules and fleet rules.
In September, the US Department of Energy awarded grant funding to the carbon capture and storage project under development by Oxy Low Carbon Ventures, Total Petroleum and Svante at the Holcim Lafarge cement plant in Florence. The project has made it through its initial evaluation and is now in the next phase of scoping for a potential capture and sequestration of 2 million tons a year of carbon dioxide.
In October, BP Lightsource began construction on a 300 MW behind the meter solar plant at the EVRAZ steel mill in Pueblo━part of  Xcel's plans to retire the Comanche 1 and 2 coal plants━bringing a new era of low carbon steel production to Colorado while helping to preserve good jobs in Pueblo for decades to come.
In November, by a nearly 2-1 margin, Denver voters approved ballot measure 2A, which increases the city sales tax by 0.25% and will generate about $40 million a year to invest in an equity-focused Climate Protection Fund devoted to eliminating greenhouse gas pollution, supporting climate adaptation and growing new clean energy jobs. Boulder voters approved a franchise agreement with Xcel Energy that builds in emissions reduction targets for interim years before 2030 and sets the stage for innovative partnerships between the city and utility to advance clean energy and electrification.
In November, the Colorado Oil and Gas Conservation Commission completed a historic mission change rulemaking, pursuant to SB 181, which directed the COGCC to prioritize public health and environmental protection. The new rules set a 2,000 foot setback requirement from homes to oil and gas drilling, requires the evaluation of cumulative impacts on air quality, prohibits routine venting and flaring, and prioritizes environmental justice.
Then Holy Cross Energy, a rural utility serving several mountain counties, announced that not only is it about a decade ahead on its plan to get to 70% renewables by 2030━ they are making a new commitment to be 100% carbon free by 2030! 
The end of 2020 approached with a bang when, three days before Christmas, the Colorado Department of Transportation and the Denver Regional Council of Governments announced the first $59 million of investment in the new Safer Main Streets program, which will give more opportunities to get around safely by walking, biking and using public transit across the Denver metro area.
Then, two days before Christmas, the Public Utilities Commission voted to approve Xcel Energy's first transportation electrification plan━authorizing $110 million in investment to support vehicle electrification with a big focus on social equity. The plan includes charging infrastructure, support for electrification of fleets, rebates for home charging, support for school bus electrification, investment in multifamily charging, public-facing fast charging and rebates to help lower income customers acquire EVs. This is a big step forward for electric vehicles in Colorado and shows real ambition from Xcel in supporting transportation electrification━following up on its announcement earlier in the year of a goal of 1.5 million EVs on the road across their service territories by 2030.
Rounding out the year, on New Year's Eve, the Office of Just Transition released the state's first Just Transition Plan, pursuant to legislation from 2019 that made a "moral commitment to assist the workers and communities that have powered Colorado for generations" by supporting "a just and inclusive transition" away from coal. The Just Transition Plan sets the stage for additional action by the legislature and state agencies to support the workers and communities affected by the transition away from coal.
All of this sets the stage for an even bigger year in 2021 as we move to implement the GHG Roadmap. Some of the highlights I am looking forward to include:
The completion of a community-driven climate equity framework

The PUC evaluation of Tri-State and Xcel's electric resource plans

The completion of the statewide EV fast-charging corridors project and start of a  full scale pilot project supporting electric bicycle access for low-income workers across the state

Major air commission rulemakings on GHG pollution standards for transportation plans, trip reduction requirements for large employers, reducing oil and gas emissions over 50% by 2030, requiring energy and emissions audits and reductions by large industrial operations━and on reducing emissions from buildings

Legislative action on proposals to invest in clean energy finance, encourage building electrification, increase investments in energy efficiency by gas utilities, support the use of biomethane, set pollution reduction targets for gas utilities, improve energy performance from big commercial buildings, enhance investment in low income weatherization and energy assistance, and invest in infrastructure and incentives for electric cars, trucks and buses
Our opportunities to move forward to grow the clean energy economy, reduce consumer energy costs, take climate action and clean up air pollution in our communities are unparalleled. Here's to 2021!