#FFFFFF
What does Colorado's Weatherization Assistance Program do?
The Colorado Weatherization Assistance Program (WAP) helps qualified Coloradans save money, increase comfort, and better their homes and environment through proven, energy conservation solutions.
Unfortunately, Weatherization cannot help with cooling.
What are some of the no-cost energy and utility bill saving services I may receive?
Energy audits
Energy conservation education
Air infiltration sealing
Insulation in attic, floors, and walls
Furnace repair or replacement
LED light bulbs
High efficiency appliances
Solar
Air source heat pumps
How do I get weatherization services?
The fastest way to receive service is to get in touch with your local weatherization service provider: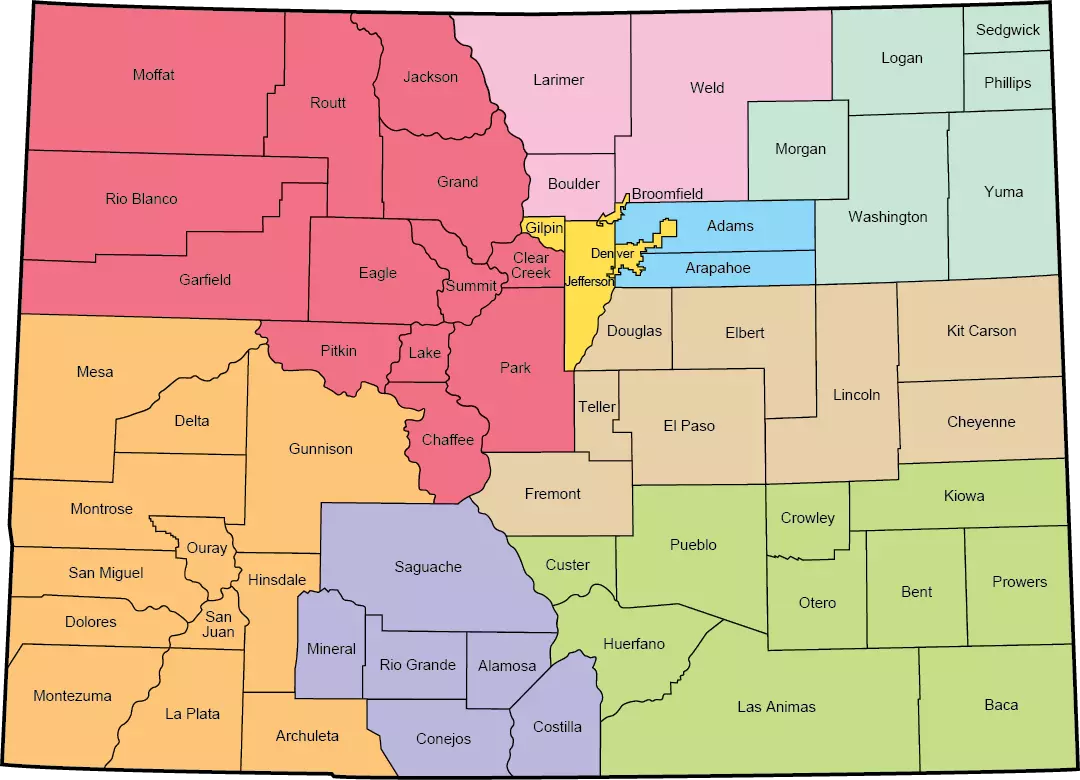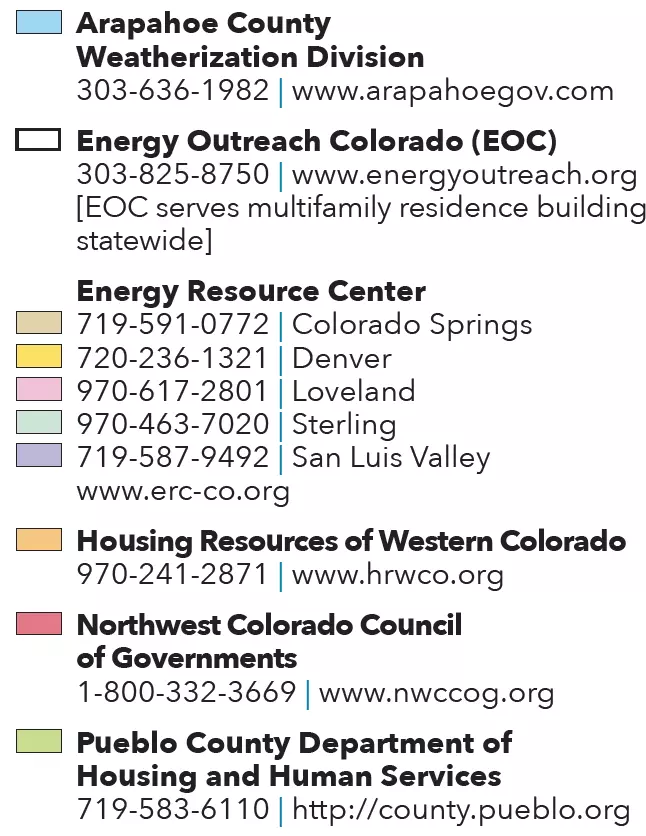 #FFFFFF
Service Provider Contact Information by County:
County
Service Provider
Adams, Arapahoe
Arapahoe County Weatherization Division
303-636-1982
Cheyenne, Douglas, Elbert, El Paso, Fremont, Kit Carson, Lincoln, Teller

Energy Resource Center - Colorado Springs
719-591-0772

Broomfield, Denver, Gilpin, Jefferson

Energy Resource Center - Denver
720-236-1321

Boulder, Larimer, Weld
Energy Resource Center - Loveland
970-617-2801
Logan, Morgan, Phillips, Sedgwick, Washington, Yuma
Energy Resource Center - Sterling
970-463-7020
Alamosa, Conejos, Costilla, Mineral, Rio Grande, Saguache
Energy Resource Center - San Luis Valley
719-587-9492
Archuleta, Delta, Dolores, Gunnison, Hinsdale, La Plata, Mesa, Montezuma, Montrose, Ouray, San Juan, San Miguel
Housing Resources of Western Colorado
970-241-2871
Chaffee, Clear Creek, Eagle, Garfield, Grand, Jackson, Lake, Moffat, Park, Pitkin, Rio Blanco, Routt, Summit

Northwest Colorado Council of Governments
1-800-332-3669

Baca, Bent, Crowley, Custer, Huerfano, Kiowa, Las Animas, Otero, Prowers, Pueblo
Pueblo County Department of Housing and Human Services
719-583-6110
Statewide*
(multifamily residence buildings)

Energy Outreach Colorado (EOC)
303-825-8750
#FFFFFF
FY23-27 Bipartisan Infastructure Law (BIL) Plan: State of Colorado WAP