Weatherization Assistance Program Applications
Weatherization Assistance Program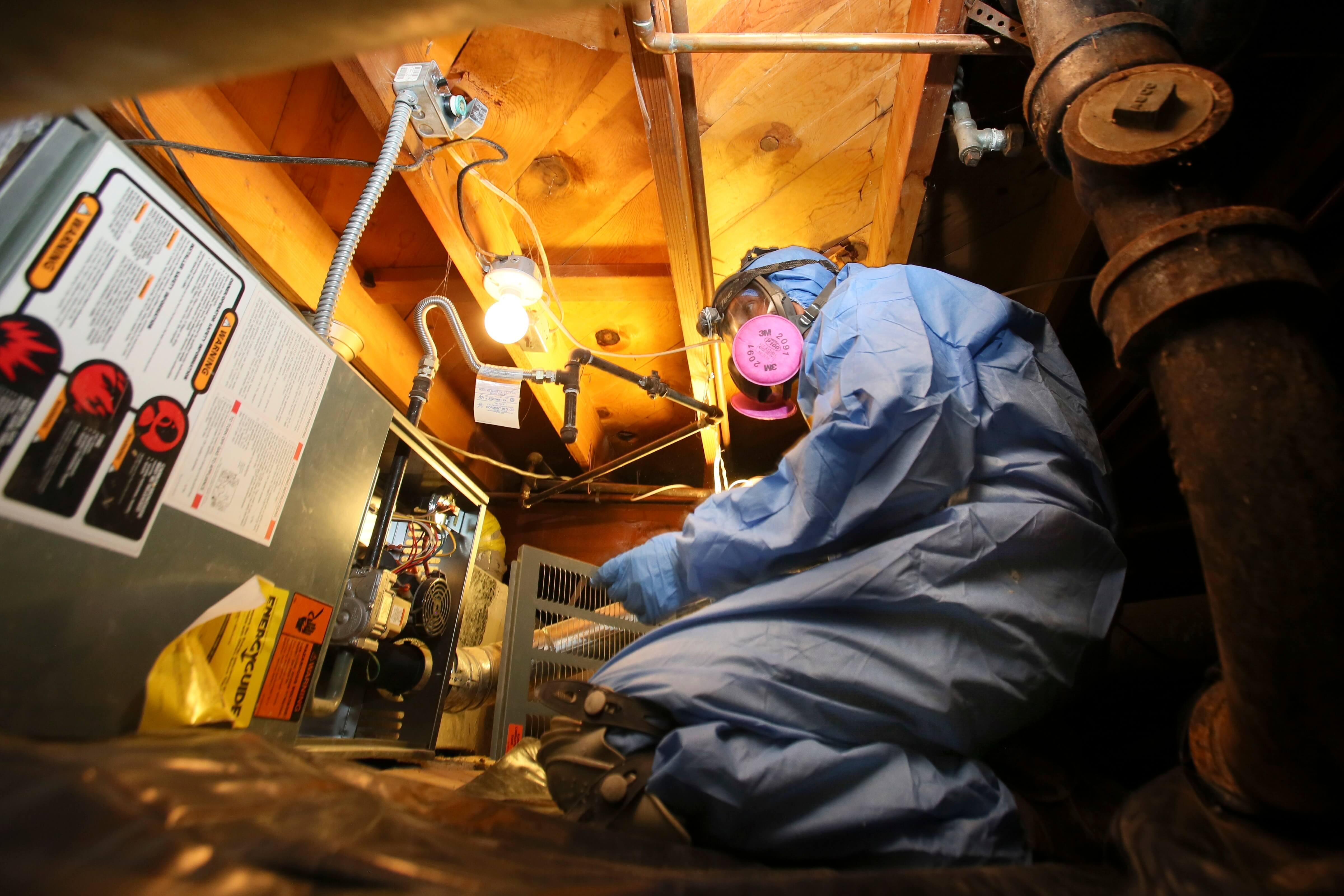 In partnership with local agencies and the U.S. Department of Energy, Colorado Energy Office (CEO) offers a free Weatherization Assistance Program (WAP) to Colorado's low-income residents. WAP works to maximize energy cost savings for each client by providing them with cost-effective energy efficiency services.
WAP services focus on the home as a system and include a variety of measures that improve the home's energy efficiency. These cost-effective services reduce wasted energy and lower heating bill costs, while improving the overall comfort and safety of a home year-round. Examples of some of the measures that may be completed in a qualifying home are: 
Air sealing

Energy conservation education

Furnace safety testing

Furnace repair or replacement

Insulation in attic, floors, and walls

LED light bulb retrofits

Refrigerator replacements

Solar photovoltaics
Do I Qualify for Weatherization Assistance Services?
If you currently receive financial assistance from any of the following programs, you automatically qualify for weatherization services:
Aid to the Needy and Disabled (AND)

Low Income Energy Assistance Program (LEAP/LIHEAP)

Supplemental Security Income (SSI)

Supplemental Nutrition Assistance Program (SNAP)

Temporary Assistance for Needy Families (TANF)
Households can also be eligible if they meet required income guidelines. Please contact your local agency for financial qualifications.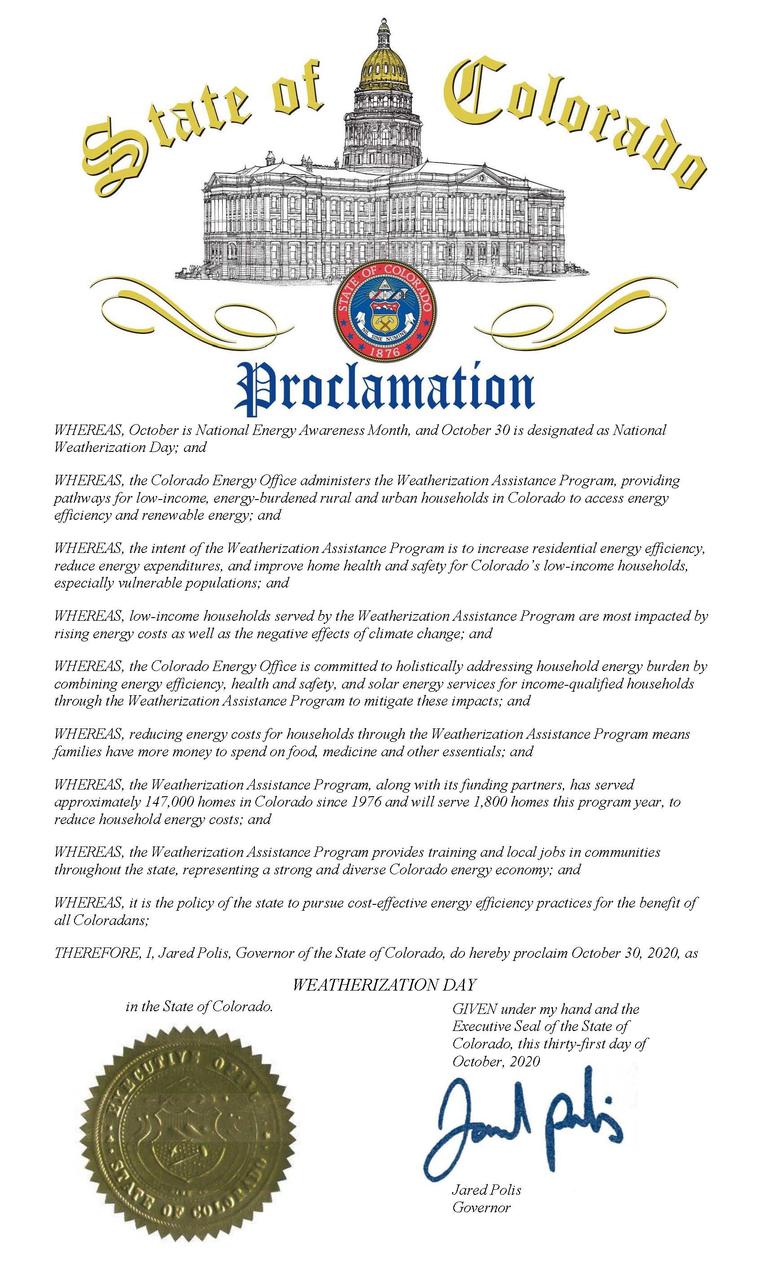 Weatherization 2021 Proposed State Plan Public Hearing Notice
Public Notice of Hearing 
Pursuant to the Title 10, Code of Federal Regulations, Section 440.12(a) of the Weatherization Assistance Program for low-income persons, the Colorado Energy Office Weatherization Assistance Program (CEO WAP), hereby announces that a virtual public hearing will be held on Monday, April 19, 2021, from 2:00-4:00PM, in order to receive testimony from interested persons, regarding the CEO WAP State Plan to provide weatherization services in Colorado for the program year 2021-2022. Under funding from the annual congressional appropriation through grant #DE-EE0007908. 
CEO WAP administers the program through funding and programmatic oversight from the Department of Energy (DOE). The goal of the Weatherization Assistance Program is to maximize client energy cost savings for income qualifying Coloradans while maximizing the energy efficiency of their home, and the greater State of Colorado. Prioritization for certain sub-groups within the population is given, especially to those who experience a high energy burden and other systematic and health disparities and inequities. Weatherization services include providing a full home energy assessment followed by measures, including but not limited to, air sealing; installation of high efficiency appliances, such as refrigerators, hot water heaters, and furnaces;  installation of solar photovoltaic systems; installation of air source heat pumps; installation of insulation in walls and attics; in addition to the distribution of educational materials designed to further reduce individual energy consumption. These services are provided in all of Colorado's 64 counties by six regional weatherization service subgrantees and various subcontractors. 
Given future and final approval is secured, CEO WAP is proposing the following implementations for the 2021-2022 Program Year: 
The grant's annual file has been populated to reflect a new program year 2021-2022 application which, subject to approval by the DOE, will allow CEO WAP to amend and administer current subgrantee contracts, in which all subgrantees were reviewed based on criteria outlined in Title 10, Code of Federal Regulations, Section 440.15 of WAP for low-income persons, with performance periods through June 30, 2022.        

The grant's annual file has been populated to state a redistribution provision which enables CEO WAP to actively manage the grant and move funds as necessary to fully expend the monies during the budget period.

CEO WAP certifies that an official policy advisory council, will have reviewed and approved proposed activities associated with the DOE WAP.
Testimony may be received prior to or during the hearing on the proposed state plan. The hearing is intended to provide the general public with the opportunity to give input, offer testimony, and ask questions about the proposed state plan. A copy of the state plan proposal and supporting documents may be obtained by accessing the CEO WAP website https://energyoffice.colorado.gov/weatherization-assistance. 
Due to the recent public health crisis, the hearing will only be held online or via phone from 2:00 PM until adjournment at 4:00 PM. Should anyone who is deaf or hard of hearing be in need of accommodations, please contact CEO WAP Program staff EJ Jaenicke, at 303.335.5119 or elizabeth.jaenicke@state.co.us, prior to the event. 
You may join the public hearing online, via Zoom Meeting. All citizens must note that one person will be permitted to share at a time. For those wishing to do so, please be prepared to speak under the following guidelines: 
When you wish to participate, please wait to proceed until you are addressed.

When addressed, before you share your testimony, please give your full name and spell it clearly so it may be recorded. 

When you are not speaking, please mute your microphone.
Zoom Meeting URL: "https://zoom.us/j/93746522569
Should you wish to contribute written testimony, official testimony may be mailed or emailed and received by Monday, April 19, 2021 at 4:00 PM. Please send your documentation, through certified mail, to: 
Colorado Energy Office, Weatherization Assistance Program
Attention: EJ Jaenicke/ Public Hearing Testimony
1600 Broadway, Suite 1960, Denver, Co 80202

Or by email to: Weatherization@state.co.us. 
Weatherization 2022 Proposed State Plan