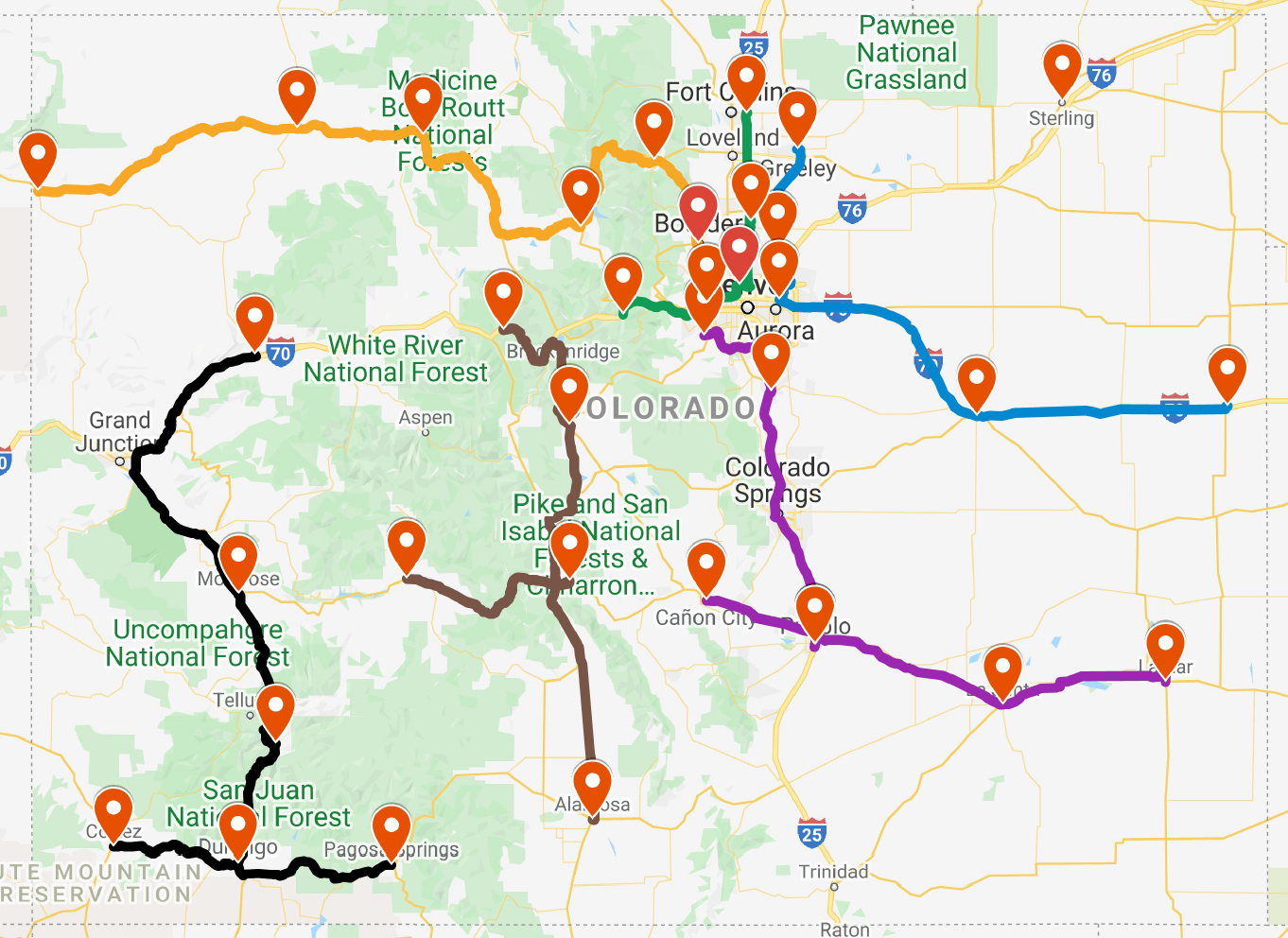 ***Electric Vehicle Fast-Charging Corridors: December 2020 Update***
The Colorado Energy Office (CEO) fast-charging electric vehicle corridors project comprises high-speed charging stations at 34 locations across the state developed in partnership with ChargePoint and site hosts such as local governments, utilities and private companies.
As of December 2020, seven community locations are online and open to the public: Dinosaur, Salida, Pagosa Springs, Estes Park, Montrose, Fairplay, and Steamboat Springs. Six additional sites have received permits and have entered the construction phase including Vail, Wheat Ridge, Rifle, Wellington, Granby, and Craig. These locations are anticipated to come online soon.
Understandably, COVID-19 has continued to impact the timelines for other site locations. COVID-19 impacts to site hosts include budget concerns and constraints, competing priorities, workforce implications and delays due to closure/social distancing requirements. Additionally, ChargePoint is experiencing supply chain disruptions.
CEO and ChargePoint are committed to moving forward in this challenging environment with a focus on creativity and urgency. In April, CEO released the Colorado Electric Vehicle Plan 2020, which includes the fast-charging corridors project as a priority.CEO continues to work with ChargePoint and site hosts of 21 additional locations to address COVID-19 impacts through creative solutions and move revised timelines forward. CEO anticipates the majority of these site host agreements to be finalized this winter and construction to be completed in the Spring. As revised project information becomes available, CEO will post updates here.
Background Information
In Spring 2018, the Colorado Energy Office launched the Electric Vehicle (EV) Fast-Charging Corridors infrastructure grant program. This program directly addresses Action #1 in the Colorado Electric Vehicle Plan: Build out Colorado's EV fast-charging infrastructure through public-private partnerships and in coordination with other programs.
In November 2018, Gov. Hickenlooper and Colorado Energy Office awarded a $10.33 million grant to ChargePoint to build electric vehicle fast-charging stations across the state. The fast-charging stations will be located in communities at 34 sites across six corridors comprised of Interstate, State and U.S. Highways - see map above. Once complete, these stations will allow Coloradans to drive anywhere in the state in an electric vehicle.
This grant also helps implement Colorado's Beneficiary Mitigation Plan and the State's commitment to the multi-state Regional Electric Vehicle West Memorandum of Understanding. 
If you have questions about the EV Fast-Charging Corridors grant program, please contact Program Manager Zach Owens at zachary.owens@state.co.us.