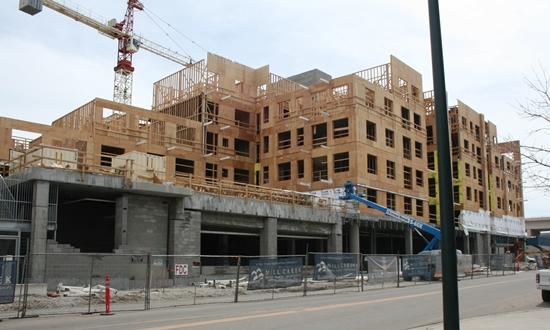 **Wednesday Webinars are back! Please see this new schedule for Fall 2020 - Winter 2021 for a variety of energy code topics.**
Energy Code Training
In order to assist jurisdictions with code adoption, the Colorado Energy Office (CEO) provides energy code education at no cost to building departments and stakeholders. CEO will be restarting the popular Wednesday webinar training series starting in October 2020 and running through February 2021. Please see
this flyer
for a schedule of training topics and to register. 
You can view recordings of previous webinars 
here
. In addition to the one-hour webinars, our codes experts also provide in-depth, customized trainings across the state. Customized training is available upon request; simply
fill out this short form
. Trainings can be scheduled for local government staff such as code officials, inspectors, and planners as well as other building industry stakeholders including builders, designers, engineers, contractors, and architects. 
Xcel Energy is also hosting training webinars through the end of 2020. You can view the upcoming webinar schedule and sign up
here
. Recorded webinars can be accessed on this
site
.
Energy Code Adoption Technical Assistance
CEO provides no-cost technical assistance to jurisdictions to support the adoption of new codes and code enforcement. Technical assistance can be customized to a jurisdiction's needs. Assistance may include:
A review of a jurisdiction's current code and policies
Education for stakeholders about the major changes in new codes compared to the jurisdiction's existing codes
Recommendations for proposed code amendments tailored to the jurisdiction
Subject-matter expertise to answer questions and address concerns about code-related issues, for example, in city council or county commissioner public hearings
A review of a jurisdiction's existing building code implementation and enforcement policies and proposed changes that align with the new codes, as amended and adopted by the city or county. 
For more information about technical assistance, see this flyer. To request technical assistance, please fill out this short form. 
We created an Energy Code Adoption Toolkit that includes a guide on the significant changes from the 2015 to the 2018 International Energy Conservation Code (IECC), cost comparisons between code editions, examples of stretch codes from other jurisdictions, and code compliance checklists. 
State Law Sets New Building Energy Code Requirements
Colorado House Bill 19-1260 updated the 2007 state law that established a minimum building energy code. Effective August 2, 2019, the law requires local jurisdictions in Colorado to adopt and enforce one of the three most recent versions of the International Energy Conservation Code (IECC) upon updating any other building code. Jurisdictions do not need to modify their timeline for adopting new building codes; they simply need to adopt one of the three most recent versions of the energy code at the same time they adopt or update other building codes, if they have them.   
The legislation also encourages jurisdictions to report to the Colorado Energy Office (CEO) any updates to their building and energy codes within a month of the change. CEO created this form for jurisdictions to report this information. Alternatively, you may report this information by emailing Kim Burke at kim.burke@state.co.us.  
Energy Codes in Colorado
More than 2.5 million Coloradans, or 44% of the state's population, live in a jurisdiction with the newest and most efficient energy code—the 2018 IECC. About 44 jurisdictions have adopted it so far, with another 21 in the process or under consideration. Nearly 4.9 million Coloradans, or 84% of the state's population, live in one of the 134 jurisdictions that have adopted a high-efficiency energy code—the 2018, 2015, or 2012 IECC. For more information, see a list of Colorado Building and Energy Codes by Jurisdiction. If you notice an error in this list or would like to notify the Colorado Energy Office of an update to your jurisdiction's codes, please email kim.burke@state.co.us. You can access additional code resources here.
CEO recommends that jurisdictions update their building codes on a regular cycle, typically every three years, which is how often the International Code Council updates its model codes. Incremental changes are much more manageable to adopt when codes are updated on a regular cycle as opposed to skipping several editions of the code. Failing to update building codes regularly can be challenging since there aren't resources that compare much older codes to newer ones and changes add up when codes are updated more than a decade apart. 
CEO is a member of the Colorado Energy Code Compliance Collaborative. The Collaborative consists of code officials, builders, energy raters, utilities, energy advocates, and other stakeholders who are interested in  working together to improve and advance energy code compliance in Colorado. New members are always welcome! For more information or to join the Collaborative, please see this fact sheet.
Why Building Energy Codes are Important
Buildings account for about 40% of energy used in the United States. Building energy codes establish minimum construction or major renovation requirements that enable buildings to use energy more efficiently. But building energy codes do more than improve the efficiency of buildings; they also help ensure the safety, durability, sustainability, and affordability of homes and buildings in your jurisdiction. Based on building science and physics principles, life-safety aspects of the energy code include moisture management (avoiding mold, mildew, and rot), indoor air quality, increased fire protection, and protection during severe weather. 
Did you know that energy codes are the only building codes with a return on investment? That's because building to newer energy codes pays building owners back by way of reduced operating and utility costs. In fact, moving from the 2009 to the 2015 or 2018 IECC saves an average of $4,491 on a 30-year mortgage here in Colorado, with a net-positive cash flow in under a year.