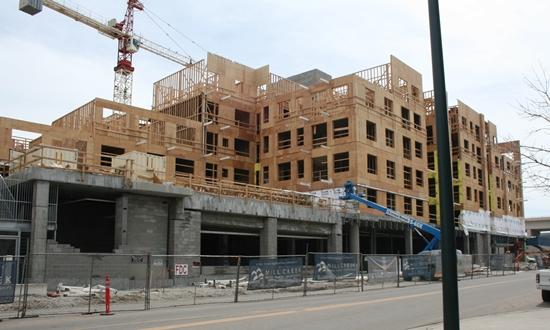 [BLOG POST] 8/7/20
- Kim Burke, Senior Program Manager - Building Policy, Colorado Energy Office
- Christine Berg, Senior Policy Advisor - Local Government, Colorado Energy Office
Late last year, state and local government International Codes Council (ICC) members from across the US overwhelmingly voted to approve provisions in the 2021 International Energy Conservation Code (IECC) that improve the energy efficiency of new construction and prepare buildings for new technologies. As it's currently written, the 2021 IECC is estimated to achieve 10% greater efficiency in buildings compared to the 2018 energy code. The code also includes requirements that buildings be pre-wired for future installation of electric vehicle (EV) charging infrastructure.
The IECC is considered the model energy code that the majority of states and local governments adopt. It establishes minimum efficiency standards for newly constructed and renovated commercial and residential buildings to ensure they are built as efficiently as possible. The ICC publishes a new edition of the IECC every three years through a defined code development cycle process that incorporates stakeholder input. 
The ICC Board of Directors certified the voting results this spring but a few industry groups are challenging the results through the appeals process, delaying the code's finalization. Some of the appeals dispute the legitimacy of the online votes by governmental members, which is the primary way that city, county, and state governments can make their voices heard. If you voted for the 2021 codes, we urge you to contact ICC's leadership (listed in this New Buildings Institute blog) and tell them to uphold the vote. 
The 2021 IECC will be the first code in several cycles that has achieved this level of energy savings over the previous version and we applaud the efforts of governmental members across the country who voted to modernize the code. It's a critical step in the right direction that puts codes on a path toward increasing efficiency and performance standards, setting the stage for future codes which can enable new buildings to be powered solely by clean energy and produce net zero emissions.
The Role for Local Governments
As local governments face economic uncertainty, staff lay-offs and budget cuts due to the impacts of COVID-19, the Colorado Energy Office (CEO) continues to look for ways to support communities with no-cost solutions to help bolster economic recovery and sustainability into the future through energy efficiency and renewable energy programs.
One of these no-cost solutions is working with our office to adopt the latest building energy code—and more advanced codes that set building new construction on a path to net zero. This is a concrete way to reduce greenhouse gas emissions and  lower ongoing energy costs, while making buildings and communities more resilient to future climate change impacts and economic disasters. 
As a home rule state, Colorado doesn't have a statewide building energy code. However, legislation passed in 2019 does require local codes to be at least as strong as one of the three most recent versions of the IECC. Dozens of counties and municipalities across the state including Adams County, Boulder, Craig, Denver, Fort Collins, Greeley, Jefferson County, Parker, Ridgway, Trinidad and Vail are leading by example and have adopted the 2018 codes. Some jurisdictions have also added stretch codes designed to achieve greater energy savings and building performance. 
Through a year-long process that included local builders, designers, energy professionals, government and non-profit staff, Summit County adopted a new sustainable building code in 2020 based on the 2018 IECC with additional energy-saving, water efficiency, indoor air quality, solar- and EV-ready requirements. To prepare stakeholders to understand and comply with the new code, CEO provided a series of customized training webinars for Summit County, focused on US Department of Energy Zero Energy Ready Homes standards. 
We encourage local governments to take advantage of CEO's no-cost codes training and assistance to adopt new codes. If your jurisdiction is currently in the process or about to start the process of adopting new codes, you don't have to wait to add provisions from the 2021 IECC. We recommend incorporating the following amendments into your energy code:
EV-Readiness: Require that new single-family homes be pre-wired and include a 240-volt circuit for future installation of an EV charger. Require multifamily and commercial buildings to be pre-wired and include conduits from the service panel to the parking area for future installation of EV chargers as well as a minimum number of installed EV chargers. To see model code language and examples of jurisdictions that have adopted these requirements, the Southwest Energy Efficiency Project (SWEEP) has developed an EV Infrastructure Building Codes Adoption Toolkit. 
Zero Energy: Require buildings to be designed and constructed to achieve a net zero energy outcome, or to be zero energy ready, if an onsite renewable energy system is included. The New Buildings Institute created a Zero Energy Appendix for code compliance.
Electrification: Require 240-volt receptacles in close proximity to gas or propane equipment and appliances to accommodate future electrification of end uses, and encourage the installation of efficient heat pumps for both water and space heating. 
Why Building Codes Matter
Improving energy efficiency is a key pillar of Governor Polis' commitment to bold climate action and building a clean energy economy. Energy efficiency is also a necessary component to achieve the administration's goal of 100% renewable electricity by 2040.
Building energy codes provide a direct financial return on investment. They reduce energy use and operational costs and increase the health and safety of occupants by incorporating building science and efficient equipment, technologies and construction techniques. Strengthening your energy codes can make the buildings in your community not only more energy efficient, but also safer, more durable and resilient to natural and man-made hazards. In fact, the National Institute of Building Sciences found that adopting the 2018 codes has a benefit-cost ratio of $11 for every $1 spent.
For more information on our codes training or to request assistance, visit our codes resource page. Our Energy Code Adoption Toolkit provides information on the significant changes and costs of moving to new codes and provides checklists and a troubleshooting implementation guide to enhance code compliance.