According to the Colorado Agricultural Energy Market Research Report prepared for the Colorado Energy Office (CEO) in 2013, Colorado farmers spend more than $400 million annually on energy. This $400 million equates to ~7% of the industry's total expenses with dairy and irrigation operators accruing the highest annual energy costs. In response to these findings, the CEO launched statewide the Colorado Dairy and Irrigation Efficiency - now the Agricultural Energy (AgEE) program - in the summer of 2015, which built on the success of its 2014 pilot initiative.
The AgEE program has continued to analyze and develop its turnkey approach which includes a no-cost energy audit and technical assistance to help Colorado ag producers increase on-farm economic and environmental sustainability. More about the program's current offerings can be found in the "Program Process" section below.
Eligible participants include any of the following operations which also accrue $4,800+ in on-farm energy costs annually.
Dairies
Irrigators
Greenhouses/Nurseries
Cold Storage facilities
Poultry & Swine operations
Feedlots
Hemp producers
Please note: Cannabis operations are not eligible for this program and transportation energy expenses do not count towards the $4,800 energy expense requirement.
If you have determined you meet the eligibility requirements, please fill out the program application (English) (Spanish) and return it via email (CEO_Ag_EE@nexant.com) or mail it to the Colorado Energy Office Attention: Wil Mannes, 1600 Broadway, Suite #1960, Denver CO 80203.
If you are having any trouble filling out the application please feel free to reach out to Wil Mannes by phone (303-866-2418) or by email (wil.mannes@state.co.us)
Once your application is received, a member of Nexant, Inc. (the program administrator & your Energy Coach) will reach out to collect historical energy use data and schedule your no-cost onsite energy audit. 
Your Energy Coach will come out to your operation and audit the sites outlined in your application to identify potential energy-saving measures & collect operational data. After the site visit, your Energy Coach will develop and review your streamlined audit report with you.
This audit report identifies:
Potential energy efficiency upgrades
Estimated project costs
Estimated annual savings
Funding sources and estimated funding amounts
Payback periods
If after reviewing your streamlined audit report you decide to move forward with a project, your Energy Coach will once again review potential funding sources (outlined below), help secure project quotes from potential contractors, and guide you through the funding application process.
Potential funding options available include:
CEO Rebates (Incentives)
Utility Rebates
NRCS EQIP Grants
USDA REAP Grants
CDA ACRE3 Grants
CPACE financing
Private Loans through a variety of sources
 *It is important to note that to meet qualifications for ACRE3, EQIP, and REAP grants, your Energy Coach will need to develop a more in-depth, no-cost audit report referred to as an Energy Management Plan or "EMP" before you can move forward with the application process.
 285+ audits conducted spanning 42 of Colorado's 64 counties
 2.6 million+ kWh avoided
16 million+ kWh in additional savings identified
43,000+ therms avoided 
1,800+ MT of CO2e avoided
Find of map of completed AgEE energy audits and installed projects here.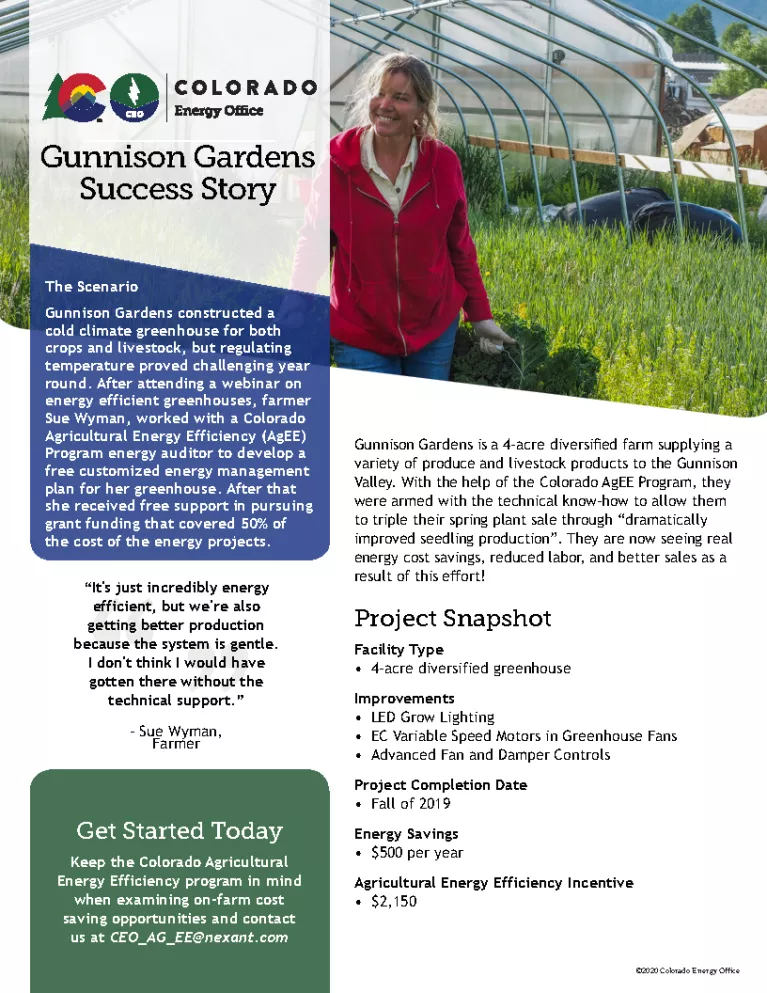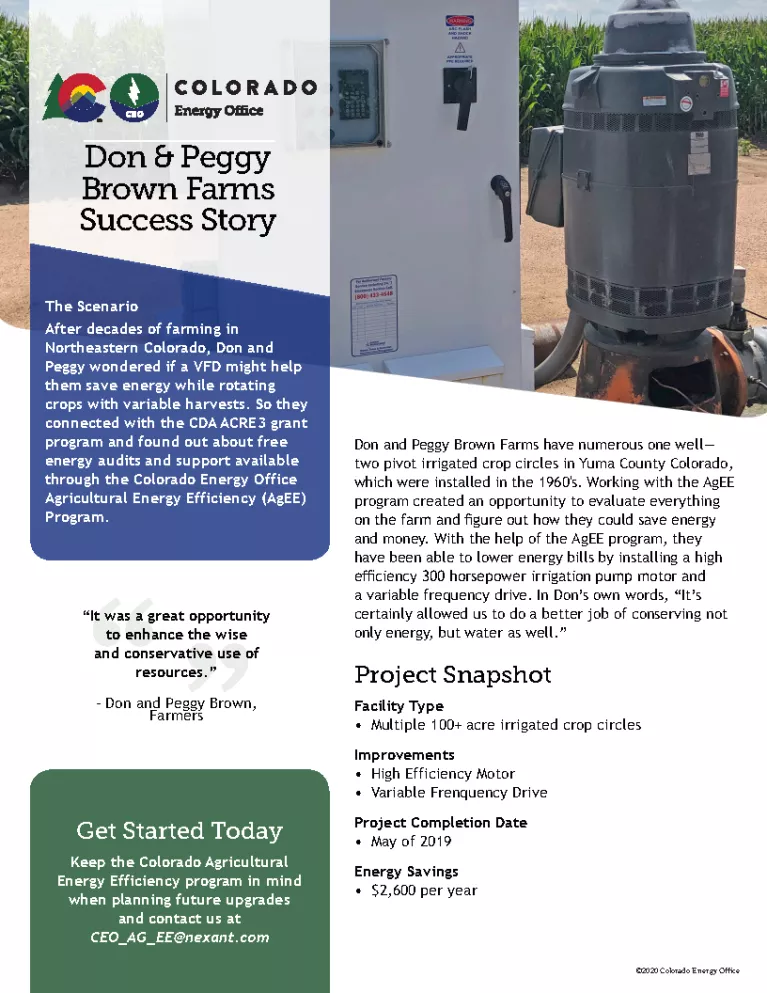 Application & Additional Information